5TH DANUBE PARTICIPATION DAY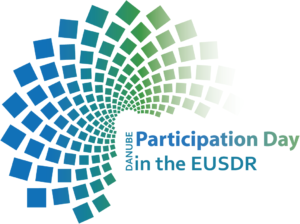 The 5th Danube Participation Day takes place in Sofia (BG) on 17th of October 2018, back to back with the 7th EUSDR Annual Forum. The conference addresses the topic "Expanding Civic Spaces – Participation Strategies in the Danube Region".
This year's Danube Participation Day will deal with the challenge of reducing civic space on various levels in state, administration, media and society and will discuss and present counter strategies for civil society and its organisations. The conference will show how civil society organisations and local actors can participate in regional development and become an equal partner in economic, social and territorial cohesion.
Find all presentations, speeches and images of the 5th Danube Participation Day here.
AGENDA
5TH DANUBE PARTICIPATION DAY
EXPANDING CIVIC SPACE. PARTICIPATION STRATEGIES IN THE DANUBE REGION
VENUE: HOUSE OF EUROPE, Sofia, 124, G.S. Rakovski Str.
———————————————-
09:00 – 09:30 Registration
09:30 – 10:00 Opening Session
Iva Taralezhkova, Citizens Participation Forum, BG
Rudolf Schicker, Priority Area 10 Institutional Capacity & Cooperation of the EU Strategy for the Danube Region
[Denitsa Nikolova, National Coordinator, Sofia, Bulgaria (tbc)]
[Yordanka Fandakova, Mayor of Sofia, Bulgaria (tbc)]
10:00 – 11:00 Key Note on Expanding Civic Space. Participation Strategies in the Danube region
N.N., Bulgaria
Theresa Schopper, State secretary, Ministry of State, Baden-Württemberg tbc
Interactive Q & A
11:00 – 11:15 Coffee Break
11:15 – 12:00 Presentation of Shining Examples
followed by Public Discussion/Interview with Flagship Projects [including Catalogue of demands presentation by Bo Anderson; Norden, tbc] Interactive Q & A
12:00 – 13:00 Networking Lunch
During the lunch break we will play videos, introducing participating organizations and projects of the afternoon panel: Speed Dating.
13:00 – 15:00 Speed Dating
This session is open to all participants, who send us a short video of their initiative, idea and project prior to the registration.
15:00 – 16:30 Outlook Session
DG REGIO report on MRS N.N.
Report on Agenda for Participation – Stefan Lütgenau, DCSF
Outlook 2019 – Claudia Singer, PA 10
Interactive Q & A
16:30 – 17:00 Closing remarks and Passing the Bell
18:00 – 20:00 Evening Reception