DANUBE FINANCING DIALOGUE (DFD)
What is it?
The Danube Financing Dialogue brings together small and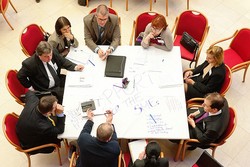 medium-size enterprises (SMEs) from the whole Danube Region with international financing institutions and national funding sources.
The Dialogue is providing a unique platform for stimulating match-making of SME´s financing needs and financing possibilities offered by financing institutions.
The Danube Financing Dialogue is organised by Priority Area 10 of the EUSDR, with the financial support of the European Commission.
To the editions of the Danube Financing Dialogue: