TECHNICAL ELIGIBILITY CRITERIA
---
Technical eligibility criteria
Eligible types of projects
The DSPF is designed to support 2 different types of projects:
A. The development of a future strategic project, which will be launched as a result of the DSPF project
B. The implementation of an entire strategic project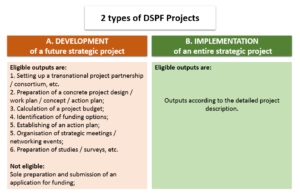 The elaboration of the sole preparation of a project application for a funding initiative / programme is not eligible within the DSPF.
Eligible project duration
The duration for all DSPF projects is planned to be 12 months.
Eligible project budget
The DSPF amount for each project is min. € 70.000,00 and max. € 100.000,00
The DSPF co-financing rate is max. 90 % and shall not be lower than 50%
The partner's contribution must be provided by the Lead and/or Project Partners and cannot come from any other EU funding source.
Eligible Lead & Project Partners
Each DSPF project must be implemented by a project partnership consisting of:
the Lead Partner, that is responsible for the entire implementation of the project and one or more work-packages
min. 1 or max. 3 Project Partners, that are responsible for the implementation of one or more work packages (active role must be guaranteed)
Max. 3 Strategic Partners that do support the project, however have no active role in the implementation and do not co-finance the project (Strategic Partners are not compulsory)
The Lead or Project Partners must be:
Bodies established under public or private law, having legal personality
Belong to one of these categories:

National, regional and local authorities;
SMEs or start-ups;
Academies and Universities (in particular applied research and development units);
Associations and social partners;
Not eligible Lead Partners, Project Partners and Strategic Partners
PACs (and their organisational unit / department)
Organisations that are represented in the DSPF Advisory Board
Organisations that are represented in the DSPF selection Jury
EuroVienna as Implementing Body (IB)
Eligible countries & geographic area of project implementation
The Lead Partner must have its seat or legal competence in the Danube Region, Project or Strategic Partners can also come from the Adriatic and Ionian Region (Greece, Italy or Albania). The partnership must consist of organisations from at least 2 different countries.
Activities of the DSPF projects must be implemented in the Danube Region or Adriatic and Ionian Region.
Eligible applications
Lead Partners (organisational unit / department) can only submit 1 DSPF application
Lead Partners (organisational unit / department) cannot act as Project or Strategic Partners for other DSPF projects / applications
Organisations / bodies (organisational unit / department) can only act as Project and Strategic Partners for one DSPF project / application