DANUBE PARTICIPATION DAY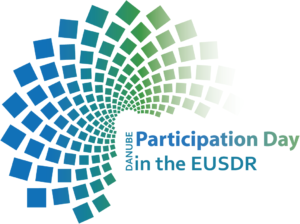 The Danube Participation Day gathers representatives from civil society organisations, local, regional and national public authorities, university and research from the 14 EUSDR partner countries, representatives from the EUSDR governance as well as from European and international organisations. The aim is to foster cooperation and participation for better development in the Danube Region. Thus, the Danube Participation Days serves as a platform for exchanging views and perceptions among each other, discussing good-practices of participatory governance and project implementations as well as for getting involved with decision-makers.
The Danube Participation Day is organised by Priority Area 10 "Institutional Capacity and Cooperation" and the Danube Civil Society Forum together with further partners and funded by the Danube Civil Society Forum, the Baden-Württemberg Foundation as well as Priority Area 10 "Institutional Capacity and Cooperation".
SAVE THE DATE
6TH DANUBE PARTICIPATION DAY | 26 JUNE 2019 | BUCHAREST (RO)
The 6th Danube Participation Day takes place in Bucharest (RO) on 26 June 2019, back to back with the 8th EUSDR Annual Forum. This year's theme is Youth – Participation – Empowerment and addresses challenges and opportunities for rejuvenation of the Danube Strategy in light of the on-going revision of the EUSDR Action Plan.
Take part and discuss with us, how we can improve quality of life and create a sustainable perspective for people in the Danube Region today and following generations!
Danube Participation Day – Youth – Participation – Empowerment
Date: 26 June 2019 | 9.00 a.m.
Venue: Nicolae Balcescu Hall, Parliament Palace, Bucharest, Romania
Registration
The registration is open now until 6 June 2019!
For registering to the Danube Participation Day, please follow a two-step procedure:
1. Please fill in the Registration form and send it back to office@foster-europe.org
2. Please register on the page of the Annual Forum to get the accreditation confirmation and additional information about the release of entry badges to the Parliament Palace.
PAST DANUBE PARTICIPATION DAYS
5th Danube Participation Day | 17 October 2018 | Sofia (BG)
3rd Danube Participation Day | 2 November 2016 | Bratislava (SK)
2nd Danube Participation Day | 28 October 2015 | Ulm (DE)
1st Danube Participation Day | 25 June 2014 | Eisenstadt (AT)