The 6th Danube Participation Day took place in the Parliament Palace in Bucharest (RO) on the 26 June 2019. The conference addressed the topic "Youth – Participation – Empowerment". In doing so, the Danube Participation Day offered a platform to discuss challenges and possible ways forward to involve young people in the design and implementation of regional development in the Danube Region. The 6th edition of the Danube Participation Day was organised back-to-back with the Annual Forum of the EU Danube Strategy.
Kick of for the Guidance Paper on Youth involvement
Ruxandra Oprica from the NGO Fast Romania and Miran Lavric from the University of Maribor opened the 6th Danube Participation Day with keynotes that provided valuable insights into the aspirations and perceptions of young people in South-East Europe.
Subsequently, the participants discussed different matters on youth participation in the world café sessions. These discussions formed the kick-off for the guidance paper on youth involvement that Priority Area 10 "Institutional Capacity and Cooperation" has planned to publish in 2020.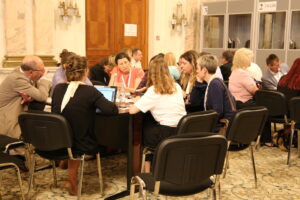 The group discussions offered the opportunity for an intergenerational share of experiences and perspectives on challenges and possible solutions regarding the following topics: enviornment & sustainability, social innovation & entrepreneurship, financing, information flow in the Danube Strategy, structural participation, and cross-border cooperation.
In doing so, the participants provided a fruitful starting point to draft the guidance paper on youth involvement.
In the interactive market place, participants presented youth projects and project ideas on youth empowerment and participation.
The 6th Danube Participation Day was organised and funded by
Agapedia Foundation * City of Vienna/EU Strategy for the Danube Region – Priority Area 10 * Danube Civil Society Forum * Federation of Social NGOs in Transylvania * Foster Europe * GDD * Interreg Danube Transnational/European Union * Social NGO Network * State Ministry Baden-Württemberg * Stiftung Liebenau
Links
Pictures from the 6th Danube Participation Day