2022 marks the European Year of Youth (EYY). With this initiative, European organisations want to shed light on the importance of young people in shaping European policies. Hence, the European Union launched an online platform to share activities where young people can participate. The aim is to highlight the various opportunities for young Euopeans to learn, share their visions, meet people, and engage in activities all across Europe. Against this background, the EYY platform shares a map with youth-related activities and information on youth policies.
Share your youth activity on the EYY platform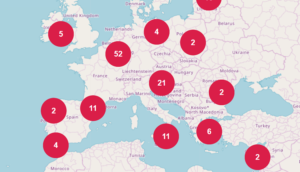 Do you organise a youth conference or a cultural festival with a focus on youth?  Are you providing a service for young professionals to support their engagement in a greener, digital and more inclusive Europe? Or do you offer internships or courses to build young people's capacity to engage in European development? If you offer an activity for young people, do not hesitate and share it on the platform. Go to the 'Activity' section of the platform and contact your National Coordinator or submit your initiative at the online portal. Likewise, activities can be added and updated throughout the year.
While the platform is a great opportunity to raise awareness for youth initiatives, it offers a practical overview for young people. In doing so, the platform helps young people to find initiatives they find interesting or are passionate about.
#Youth4Cooperation
Under the brand  #Youth4Cooperation, the European Year of Youth highlights the benefits of cooperation for young people in Europe. With the hashtag #Yourth4Coop Interreg programmes and macro-regional strategies mark their youth initiatives.
Check out the EYY platform at europe.eu/youth/year-of-youth.