How much revenues do local governments in South-East Europe get? How do local governments spend their money? Is this money coming from taxes or grants? These basic questions are referring to essential characteristics of local public finance.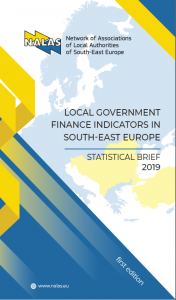 Hence, the answers to these questions can indicate scopes, limits, and potentials of public spending in municipalities. Against this background, the Network of Associations of Local Authorities of South-East Europe (NALAS) published a statistical brief on finance indicators of local governments in South-East Europe (SEE). In doing so, the paper provides statistical data on revenues and expenditures from NALAS members from twelve countries. Moreover, the briefing paper offers a comparative overview of the composition of local public revenues in an easy-to-read manner. Likewise, the paper shows how much local governments spend on economic affairs, health, education, general public administration services, social protection, and other services. With this paper, NALAS presents useful insights and in local finances in South-East Europe that allows interesting comparisons.
The current statistical brief covers the financial performance of South-East European municipalities in 2019 and is the first edition. The data was provided by the respective Ministries of Finance, Central Banks, Statistical Agencies, Eurostat and the International Monetary Fund.
The paper was drafted by the NALAS Task Force on Fiscal Decentralization (TF FD) and funded by the BACID Fund.
Link