For more than a decade, the Young Bled Strategic Forum (Young BSF) has been bringing together young leaders age between 18 and 35 years from all over the world to engage in lively discussions and develop innovative solutions to some of the most pressing global issues. It has become a unique meeting place for a diverse array of young leaders, entrepreneurs, influencers, thinkers and social activists, offering them a platform to share their visions, exchange ideas and connect. The Young BSF is organised back to back with the activities of the Bled Strategic Forum – BSF (a forum organised on a yearly basis connecting decision-makers, members of academia, think tank representatives, members of civil society, private sector representatives and other stakeholders).
Although the Young BSF conference has addressed different topics of discussion throughout the years, the leading vision of the Young BSF remains the same: to connect eager, motivated young individuals and active citizens coming from different fields of expertise and offer them a cooperative, creative, and motivated environment for discussions and networking.
Young BSF 2022 will consist of preparatory activities and the main event organised in high hopes that young leaders will have the opportunity to participate live, late this summer from 26 August to 28 September 2022 at Ljubljana and Bled, Slovenia and continue their engagement with active participation within the Bled Strategic Forum organised from 29 August to 30 August 2022 at Bled, Slovenia.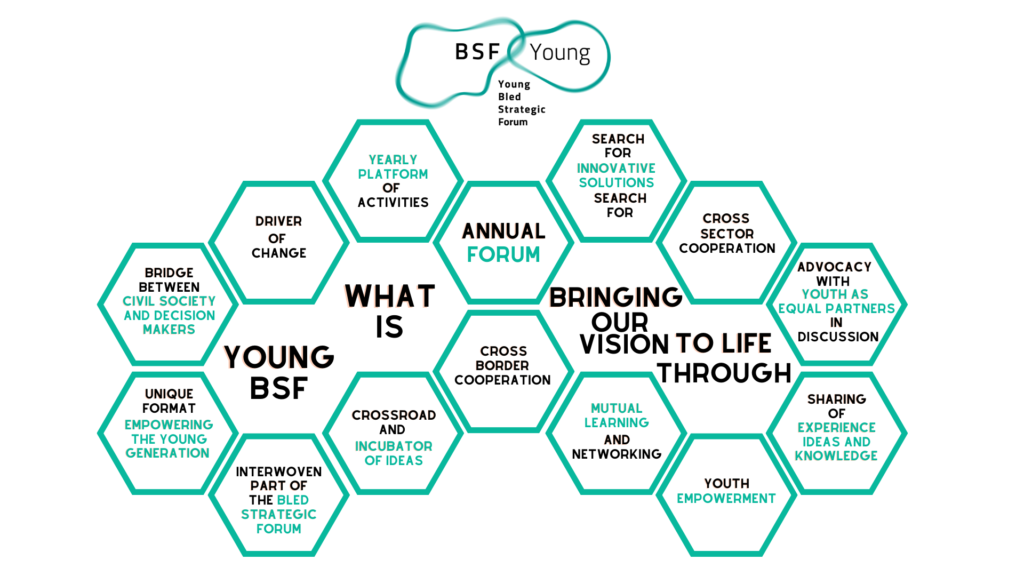 WHO CAN PARTICIPATE?
Young leaders, entrepreneurs, active citizens, civil society and NGO representatives, …
Age between 18 and 35 years
The open call is available on the link until 12. June 2022.
Expert speakers and organisations, interested in cooperation within the programme (interested organisations may contact the Young BSF organisers directly at the email address young@bledstrategicforum.org, not through the open call for participants)
Ensuring equal opportunities to attend the Forum is of the utmost importance, enabling the participation of talented, inspiring individuals, regardless of their social background and ability to pay. The organisers are working closely with partners to provide all participants with accommodation, while a number of travel grants for candidates from various backgrounds and nationalities will be ensured. These grants may be awarded to selected participants on a case-by-case basis and only up to the amount assigned by the organisers, who will also ensure equal regional and expert representation.
For additional information regarding the programme activities, possibilities of cooperation and eligibility of travel costs please contact Mr Jernej Grahor, BSF Project Manager (responsible for Young Bled Strategic Forum) at young@bledstrategicforum.org.
The project is a result of a joint cooperation between the Ministry of Foreign Affairs of the Republic of Slovenia, the Danube Transnational Programme (within the scope of Priority Area 10 Institutional Capacity and Cooperation of the European Union Strategy for the Danube Region), the Interreg Adrion Programme (within the scope of the European Union Strategy for the Adriatic-Ionian region Facility point), the Central European Initiative and the Centre for European Perspective.