Next week is a special week for the EU Danube Strategy and its stakeholders: The Croatian Presidency of the EU Danube Strategy organises the 9th Annual Forum on the 22nd of October. Prior to the forum, on the 21st of October, the Danube Civil Society Forum organises in cooperation with Priority Area 10 "Institutional Capacity and Cooperation" the 7th Danube Participation Day.
Due to the current restrictions related to the COVID-19 pandemic, all events take place online.
If you want to join us, please register now!
Danube Participation Day | 21 October 2020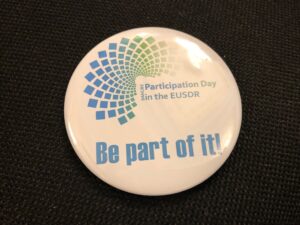 This year, the Danube Participation Day will continue its efforts on youth participation. After the kick-off for the draft of the Guidance Paper on Youth Participation in Bucharest in 2019, the Danube Participation Day 2020 will present the first draft of the paper. Furthermore, the conference will offer the opportunity to exchange on the next steps. In doing so, the Danube Participation Day 2020 also marks the first step to boost concrete steps toward youth participation.
Registration
Registration will be open until 16th of October 2020.
Please register here.
Programme
The programme is available here.
More information at https://dcsf.danubestrategy.eu/event/7th-danube-participation-day | https://capacitycooperation.danube-region.eu/danube-participation-day/7th-danube-participation-day/
EUSDR Annual Forum | 22 October 2020
The 9th EUSDR Annual Forum, jointly organised by the Republic of Croatia, the European Commission and the Danube Transnational Programme with the support of the Danube Strategy Point, will take place online on 22nd October 2020.
The annual EUSDR event is a great and unique opportunity for promotion of deeper and wider cooperation between EUSDR countries. At this crucial global moment, cooperation is the solution to the restauration of economic, environmental and social activities.
The Forum will be opened physically through a meeting of the Ministers responsible for the EUSDR. A Joint Statement is to be adopted as a result of this meeting.
The plenary and thematic sessions will focus on interlinks between the EU Green Deal and the new EUSDR Action Plan. Special focus will be on those parts of the EU Green Deal, which support both regional and sustainable development as well as civil protection to improve life in the Danube Region.
Another important point on the agenda will be a session on financial support for the Danube Region within the process of Embedding the objectives and actions of the EUSDR into the European, national and regional programmes after 2021.
Regsitration
Please register at the online platform here.
Programme
The programme is available here.
9th Annual Forum of the EU Strategy for the Danube Region (EUSDR)