On the 27th of October, Slovakia handed over the Presidency of the Danube Strategy to Ukraine. In doing so, Ukraine becomes the first non-EU member that presides the strategy.
In its programme for 2022, the Ukrainian presidency committs to continue the initiatives launched by previous presidencies. This includes tasks such as the embedding of the strategy in funding programmes or evaluation of the strategy.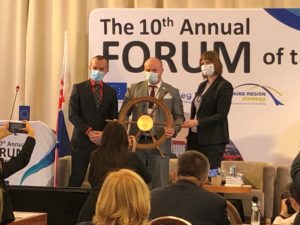 Likewise, the Ukrainian Presidency aims at supporting institutional capacity building in the Governance of the Danube Strategy and strengthening the role of civil society.
Thereby, one of the key initiatives will be the involvement of young people. On the one hand, the new Presidency will continue the effort of establishing the Danube Youth Council. On the other hand, the involvement of young people and youth organisations should improve institutional capacity and interaction with civil society.
Sustainable Development and Employability
Apart from the strategic priorities of the presidency, Ukraine has two thematic key priorities:
Sustainable Development in the Danube Region
Development of human capital and labour markets
In view of sustainable development, the Ukrainian Presidency has a strong focus on economy and infrastructure. A key policy for orientation is the European Green Deal. With this priority, Ukraine wants to explore green concepts for economic growth. Therby, the Presidency wants to give more emphasise on circular economy and its contribution to decarbonisation. In addition, this thematic priority includes transport issues such as sustainable transport modes, multimodal transport, and the expansion of the TEN-T network to non-EU countries. Furthermore, the priority of sustainable development will deal with the use of digital technologies to reduce greenhouse gas emissions or the development of hydrogen energy.
Regarding the priority of human capital and labour markets, Ukraine aims at supporting initiatives to boost education and social innovation. In doing so, the Ukrainian presidency wants to focus on quality in education in the Danube Region as well as on life-long learning strategies. At the same time, the Presidency encourages social innovation to improve employability and access to labour markets.
Finally, the next Annual Forum of the Danube Strategy will take place end of October 2022.
Also, the Ukrainian Presidency appears on Twitter, Facebook and YouTube to inform interested stakeholders about news related to their Presidency.
Follow the Ukrainian EUSDR Presidency on:
Links:
Copyright Images: freepik.com/teksomolika | EUSDR PA 10/Singer