Which EU programmes support youth projects? Which programmes are manageable for small organisations? Where could I look for competent partners? Or what do I need to know when working with young people in a project?
Katja Lenic Šalamun (Interakt), Lyuben Georgiev (RE-ACT), Michael Gansch (EuroVienna) and Melinda Benczi (CESCI) shared their experience in EU project management and youth cooperation at the webinar on Youth Projects in the Danube Region on 21 June 2022.
Funding youth projects – Where to look?
Katja Lenic Šalamun talked about her experience with the various branches of the Erasmus programme.
Erasmus – or as of the funding period 2021-2027 – Erasmus+ offers multiple opportunities to support youth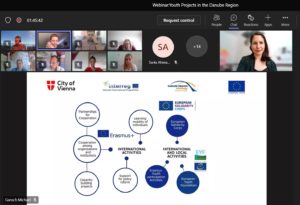 initiatives in Europe. In doing so, the programme provides funding for both international and local activities. While the international activities mostly include students exchange, support for policy reform and cooperation amongst organisations, Erasmus+ also funds more local initiatives.
The European Solidarity Corps is a part of Erasmus+ and supports voluntary work. Organisations have the chance to get a certificate to host volunteers that will gain some insights into their work. Likewise, organisations benefit from working with young people.
Furthermore, the European Youth Foundation by the Council of Europe supports youth initiatives such as Annual Work Plans for a set of activities addressing the youth objectives of the Council of Europe.
The advantage of those programmes is the comparatively unbureaucratic administration. Since the programmes are often providing funding through grants, project partners do not need to pre-finance the activities. This is particularly relevant for small organisations. Nevertheless, project partners need to make sure to carefully plan activities and budgets including the application of correct calculation schemes such as the travel calculator by Erasmus+.
The 10 Commandments of working with young people
Lyuben Georgiev shared his insights from working with young people in projects. First of all, simplicity is key. Regardless, if we look at project management or expert language, working with young people should follow the KISS principle (Keep it simple & sexy/stupid).
Since young people often do not have the experience of working in an office or in a team environment, it is essential to guide them and set standards for working in a team. If youngsters have a clear framework for cooperation with respective explanations why certain procedures are necessary, they are able to develop the skills to work in a team. Furthermore, if we want young people to be active, established partners need to actually involve them and make sure that their position is part of the project pathway. This also includes to delegate responsibilities to youngsters, so they feel a sense of ownership for what they do and feel encouraged through the (small) successes that they can gain.
Managing expecation is another crucial aspect. Failure is part of evry project. Therefore, young people need to have sufficient space for failure, can learn from it and adapt their approach. And finally, projects with young people should not lack the fun. No matter how hard the work is, fun needs to be a clear factor in the project implementation.
A Cross-border Cooperation Toolkit for young professionals
Melinda Benczi presented the SECCo2 platform for cross-border cooperation. The SECC02 initiative organised conferences for young professionals, who are interested in engaging in cross-border cooperation. Against this background, the project developed an online platform with a toolkit that includes a collection of relevant information and research on territorial cooperation.
The platform is a rich source for students, young professionals and organisations that aim at working across borders. The toolkit includes a digital library and good practices that help organisations to develop their project idea. Likewise, the platform provides a market place for project partners and ideas to facilitate match-making.
SECCo2 short video:
Supporting youth involvement
The webinar was the first of a series on strategic topics and aims at providing guidance to young people and youth organisations on project development in the Danube Region. In doing so, the webinar contributes to the call for stronger capacity building according to the Guidance Paper for Youth Participation.
Further webinars on cross-border services and digitalisation will follow in the second half of 2022.
Links
Photocredit: freepik/drobotdean | EUSDR PA10-City of Vienna